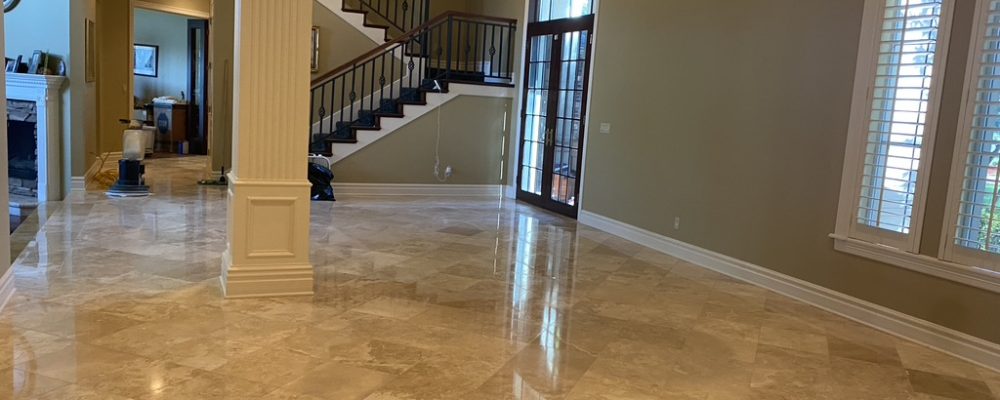 When it comes to travertine restoration or just maintaining natural stone and tile and grout, we strive to help educate our customers on the best protection they can have, helping them save time and money in costly restoration costs down the road. It it recommended that travertine and all natural stone floors be professionally cleaned and sealed at least every three years.
Travertine is a beautiful stone that comes in different colors and finishes. Travertine can be filled or unfilled. Over time holes will become exposed in the filled Travertine, but no need to worry because we can fill those for you so that your Travertine looks like new again. If many cavities/holes have appeared over time we also specialize in filling them correctly with a two part epoxy colormatched and made to look and blend in as part of the stone and be extremely durable.
Travertine may be honed (matte finish) or polished. These finishes need to be properly cared for and from time to time may require honing to remove scratches and etchings or the stone may need to be re-polished and sealed. Because Travertine tends to be more porous than other stones it is important to keep it properly sealed. Total Floor Care offers many services to keep your Travertine looking like new. We use only the best diamond pads, abrasives and powders along with the latest technology to give you the best job possible. We can clean, hone, polish and seal your Travertine and recommend a maintenance program to fit your specific needs.
With our state of the art cleaning procedures, we can bring Travertine floors back to life. Revitalize your floors and protect your investment for years to come. Give us a call now for a free in consultation and estimate for our flooring restoration service.